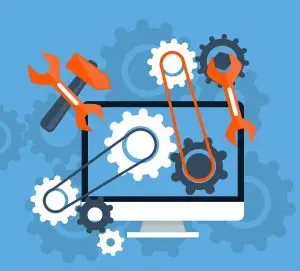 Search Engine Optimization
You want your potential customers to find your website.
For that to happen, you want Google, Bing, and other search engines to list your website.
Therefore, keeping your website up to date and optimized is important to ensuring search engines find and list your site in search results.
Search engines check to see if there are problems with your site, such as slowness and security issues. If the search engine detects problems, it's apt to downgrade your site in search results.
User Experience
You want your website visitors to want to use your website.
That's what will keep them from leaving and entice them to come back.
The best way to keep visitors coming back to your site and staying on it once there is by making it easy to use. And the best way to make it easy to use is to keep it maintained.
A poorly maintained website might have broken links, design glitches that make it hard to navigate, and a variety of other usability errors that could drive your potential clients away.
If your site is slowed down by outdated software or a bogged down database, it might be too slow to respond to user input.
Keeping your WordPress software up to date and your database optimized are key to preventing all of the above usability problems and more.
Security
You don't want hackers to take control of your website.
But the last thing you want is for your website to be hacked. It's embarrassing, it makes your business look bad, it can result in information and identity theft, and it's horrible for search engine optimization (SEO).
The very best way to reduce the odds of website hacking is to keep all of the site's software up to date. For a WordPress website, that's the WordPress core, theme, and plugins. Hackers look for ways to enter a website through poorly-written code, so software developers regularly close those potential holes. Update the software, close the security holes. It's that simple.
Conclusions
The moral of the story is to keep your WordPress software up to date, correct broken links when they show up, take measures to protect it from hacking, optimize the database periodically, and monitor your site to make sure it's running smoothly.
If you have a technical bent, these are things you can take care of yourself. If you don't, or you simply don't have time, you might consider a WordPress care plan.